I put mine in pint size mason jars. The ladies look

great
I got my stuff from ikea that place ways amazes me with stuff.
My little podunk mountain town has no Ikea.
Hell, half the people here probably couldn't find Sweden on a map! LOL!
Sad but true!!
Sorry 2 hear that. Try Amazon basics 4 kitchen you might find something u like
I kinda like the jar idea from @Dhooter
Makes it look all scientific and stuff!
Which, lets face it, growing these divas is science!!
OK - it's the end of the year and awards season will be cranking up soon.
Allow me to be the first to make a nomination for Best New Actor.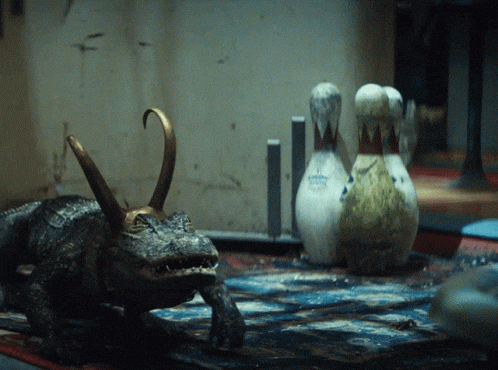 This cat is so method we don't even know his real name!! Just Alligator Loki! Baller!
Seriously, does anybody else out there have this guys chops?
I think NOT!!
I cannot wait to hear his acceptance speech!
edit: Yes - I'm watching Loki for like the 6th time! LOL!
Haha Loki was a great series. From what I read the grove bags maintain better terpenes and all
Dude, I'm digging the grove bags so far. I guess I'll get the comparison data over the long haul as far as terps and preservation go.
One kinda complaint I have is no real instructions.
You'd think with all the hype somebody would have at least answered some basic questions on use.
Like - Are they re-useable or one and done?
When you load up a QP do you squeeze air out of the bag and seal or just seal?
I'm sure I could come up with others if I wasn't so stoned atm. LOL!
Yes it's re usable and I assume you would close just like food
But if it's like a sammy I squeeze the air out so the bread will dry out less, but if it's like celery sticks eh?
Read from here on and u can get a better idea
Lol @Tylersays I've done both ways and I squeeze the air out if I know it's going to be longer-term storage. Don't bother if I know I'll be busting into it within a day or two. It has made zero difference either way, it's just the gesture of squeezing feels more final.
The heat seal is the real "final" part of it, and honestly I suspect that's just Grove's way of saying you get the best results if you resist the urge to open and sniff it every ten minutes.

I have reused mine since I got the first round. A couple have gotten beat up enough I don't want to keep reusing but for the most part they're resilient enough for multiple rounds of cure. Just be aware the terps from the strain you had in there before linger so you may get some minor cross contamination from diff terp profiles.
Thx for your take on it man. That's a big thread to read through LOL!
I need to pick up some address label type labels to use along the band up top. i don't want to stick anything onto the body of the bag itself to prevent any of the terp-loc voodoo. LOL!
Eventually I'll lose track of what's what! LOL!
With any luck - that is.

Well, I just pulled the trigger on a TRUE Far Red supplement bar.
Been flirting with the idea for a few weeks now and found a deal I couldn't resist.
I started a thread last night and got minimal response - I don't think many people have ventured into that area yet so I'll give it a try for us all.
The thread - if you're interested!
Happy Growing Everyone!!!
Oh snap. Is she going to join the ilgm fam?
As for the grove bags I've tried both just closing it and letting out the air and there has been no difference in rh. All the bags have stayed at 60% for months now. I feel the heat seal might be there for legality reasons since they seem to focus on commercial sales. Where I live weed is legal to transport until the seal is broken. If you get pulled over and the seal is broke depending on the cop and how much you have on you, you can get fined or possibly go to jail depending on the cop. Just a thought.

As for sealing for long term idk…I don't think I'll ever plan on heat sealing any of my bags just cus I don't want to be limited on what I wanna smoke plus I plan on reusing them once they're empty.
Long-term storage… I have that nailed down. Once I'm done curing, my harvest goes into Ziplocs, and then each Ziploc goes into a Food Saver bag along with a Boveda 62. Then I simply push the air out of the Food Saver, and heat seal the Bozeda and Ziploc with the weed in the Food Saver, without vacuuming the remaining air. Will keep a long time in a cigar humidor maintained at 70% RH.
Wow just learned qlot from u and Bobby on the other thread. I might have 2 buy more stuff omg jt never ends
Yeah dude, I'm learning all kinds of freaky shit!!! LOL!
And that far red strip at 30w is rated for 4x4 coverage, so in the 2x4 it should be ample.
If I could get it all dialed in and flower on a 13 on/ 11 off schedule I imagine I could increase yields quite a bit!!
According to Ed Rosenthals Growers handbook most indicas will actually naturally flower on more light and less than 12 hr darkness. Some as much as 14/10!! Apparently sativas have the longer dark requirement more than the indicas and hybrids are a crap shoot.
But it can't be disputed that more lights on hours will definitely increase yields.
Far red makes the plant think it's in the shade and therefore it attempts to compensate by increasing vertical growth and at the same time, since it considers itself vulnerable, increases production of resins and oils as it's defense against predators.
I've got a lot more reading to do!!



The spectrum charts I posted are what made me bypass HLG and go with it. That's TRUE far red light. HLG still keeps the spectrum more in the red and drops off going only slightly into where this one is still ramping up the curve!
HGE!!!
I might have 2 dedicated each tent for each strain and stop doing all the mixes. Week 8 I'm changing my schedule but for 10 14 it's suppose 2 help girls bulk more more and get denser
Cleaning day, so I've been kinda hit or miss but I finally got ahead of my niece and a little time to check out the handbook! This is what Ed Rosenthal has to say about Far Red exposure.
It was easier than looking online…it was right here! LOL!
He doesn't really specify a time frame for the FR blast, but this edition of the handbook could use a little updating as far as LED tech goes, but I should be able to get further info online easy enough.
I guess I mentioned in the other thread - an hours worth of extra "lights on" equates to an additional 17% of growth time per day. An hour and a half extra per day would be even better! Not sure if I'd push 2 hours though! LOL!
I need to stop reading about growing marijuana! I just keep finding new shit to spend money on!! LOL!
HGE!!!