Yep, you'll have to stay late. lol.
Omg! My captain!!! U sayin imma sloth eating carrot sticks???
Im offended- u got that wrong!!!
If i was a sloth, id be eating eclairs!!!
Hahaha
4 hours ago…I'm on lunch break…
I know Loco, i failed u this morning!!!
(Thats what happens when i stay up half the night sexting with u-know-who!)
& dont nobody tag the Dawg.

I picture Peg Bundy sitting on the couch eating bonbons
Velvet
Here you go my friend… The Infamous @Tenga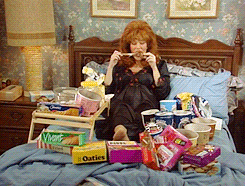 Wow I just heard there was cheating in the BOM contest. Now thats sad!! Cheating for bragging rights and 5 seeds??? Geeeez smh
Now I understand why my "make up an order number" joke went over like a pregnant pole vaulter!
Not funny.
What? Where? How? Why?
That's not cool…
How did they catch the cheaters?
They weren't smart enough not to get caught.
To pad the voting someone created numerous accts on our forum, but they were all traced back to the same ips number.
It's a lot of work for a few seeds… Idiot move, if you ask me, losing your name for a handful of seeds… smh…
Not even a handful lol. Dumb people.
Yes the farmer got caught with his overalls down-- for 5 seeds. Yeah, its sad.
Peeps on this forum are so kind, so generous. Multiple people have just given me seeds.
I hadnt checked Jimi in 2 days. So just now. . no signs of bud rot, no leaf miners or snails.
But what is this? Tiny white spots on top of a few leaves. And on the back of the leaf, if u zoom in- tiny white specks along the vein as well as a few dark spots. I dont see anything moving. I cant scrape them off???
Does anyone know what this is?
@budbrother
Kap is on
today, check your hair for embers @Tenga you getting roasted girl
Sounds like a total loser, my $$ on your Skywalker @Bulldognuts - anyone can grow big ol' Banana Something nugs which i thought was the only real competition so far (last time i checked anyway!)
I would say thrips - Spinosad or insecticidal soap