You're still good at 1000, I would lower that PH some being in a coco/Mother Earth mix. Around 5-8-6.2 would be optimum. Have you been supplementing calmag and recharge or worm castings? In about 2 weeks you'll need to increase the phosphorus and potassium with a reduction in nitrogen. In easing the phosphorus tends to increase the number of flowers and potassium increases the bulk or weight of the buds

Yes ive done the cal mag and silcia but now im doin straight jacks 321.
@GreenJewels hello grow lady lol I need some help is there any coco or soil that doesn't require high maintenance such as pH and runoff test I'm going for photos now but I need a medium the doesn't require high maintenance stuff please help if I can yhx in advance
I like that gsce she looks like she gonna give u alot of bud
Well, all plants are pH finicky to some point but cannabis is extra finicky. I rely on the life in my living soil to balance my pH. I am still learning and always will be, but what I've learned so far about feeding the soil with sustainable natural amendments has improved all of my canna, produce, lawn and flower gardens. My weed and produce tastes better now.
If your looking for an easy grow as possible, maybe look into jacks or Advanced nutrients pH perfect nute line in soil or coco.
I started out with autoflowers, happy frog soil and fox farms nutes. It wasn't easy at all but I eventually learned how to grow decently. I also tried DWC bubble buckets , it was fun but not for me. When I found living soil, I knew I wanted stick with it and learning as much as possible. Like I said, I will always be learning about it. I can't say it's been easy, but it's been interesting and very rewarding. Using the earthbox has made it slightly easier because I can water less often.
Any way you chose, you will get better with every grow. Then when you think your doing great, you'll get some strain that doesn't wanna play by the rules


If your interested in living soil,
for a pretty penny, Build A Soil has living soil already in a bag. It's the shipping that is $$
It's better to mix your own. There's some good recipes on the BAS website and a lot of information to help learn about living soil. They have some good products and they give useful information
on each product.
I reused my old used happy frog soil. I added crushed lava rock. ( I use pumice now) compost, worm castings, worms, biochar and the amendments to cover my nutrients and minerals and microbes. I topdress and water in things along the grow.
BAS has a recent grow on you tube. Here's a good start if it's really something your considering.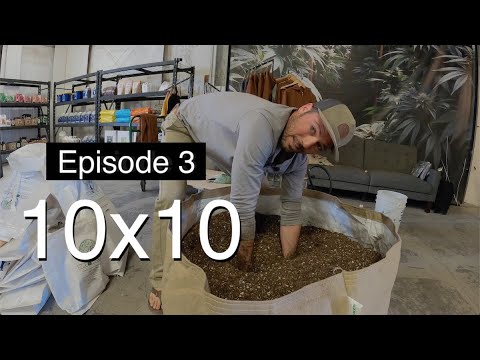 Happy growing


@OGIncognito @SilvaBack203 my leaves are yellowing Its almost week 5 is something wrong
Normal, it's just finishing up. You'll get more yellowing as you get closer to the finish line.
Ok thx I was worried but do I still use the same nutes jacks 321
You're good brother man, as @Covertgrower said those lower fan leaves will die off as she gets deeper in the flowering stage. I see some nice bud tops on the lower left plant

Welcome to the community, looks a few days from breaking ground. The 1st 2 weeks is critical for germ/ seedling period. Humidity is a must during this time, the leaves will take in the moisture until the roots have established and can start feeding her. The medium looks dry, I would cover her with a clear solo cup, a plastic bottle cut in 1/2 will work in a pinch. Keep here covered for 10-14 days letting that moisture feed her. About every 2-3 days water a ring about 6" around the cup, that'll get the roots spreading out searching for the water. What medium are you using? PH and TDS pen for testing nutrient solution and run off when that time comes?
I'm using ffof and I haven't fed the plant any nutes. I'm using a 1000w grow like and it says my pH is about a 6.5
Yep, that's a great medium, a little hot for seedlings but looks like she's doing good. That medium will carry you for 4-5 weeks with water only. I still suggest covering them with a dome and the top looks really dry on the medium

When does she pack on the thc
@Covertgrower
@SilvaBack203
@OGIncognito
and what's nutes do I need to focus on almost week 6 but I might be wrong all these numbers in my head # grower headaches lol
I feed em Jack's 321 it's good from start to end. You still few weeks out but you will start checking trichomes clouds for the thc lvl