I can neither confirm or deny your suspicions sir. Hee hee…
No idea on that one was what I was gonna say about having a big crowd like that sing back the lyrics and melody that Tom and Mike wrote! BTW, Mike Campbell is the most underrated guitar player I have ever heard. He plays what the song called for, not how fast his fingers were. I think you will say "I should have got that" when someone wins or I give the reveal. Where's Trish at today? Cygnus welcome to our little game. In another life I was in radio for 7 years so I acquired a memory of a lot of songs. I always knew lyrics. So a good friend and I came up with this game. We have done over 200 songs so far. Welcome!
Yep, great musician. When I was young, it was all about the shredding, as I matured it was about the music, the feel, and the tone, complementing the song, not overplaying it.
Hey everyone! I guess nobody remembers INXS, the group that did today's song. The song was "What You Need" and was played on rock and pop radio. Another singer gone too soon lost to a drug overdose. We will play again tomorrow. Have a good evening! Peace…
Hey everybody!! Happy Frieday all!!
I just wanted to let you all know that I might be late posting the song today. I have a short window open to cut grass today. The heat index is in the upper 90's today and tomorrow will be over 100°!! It should be up in between 2:30 and 3:00pm central time in the states. Stay cool and hydrated if you are going to be outside. I don't really think about it but how crazy does it sound for a person taking near the equivalency of 300mg of morphine and is out cutting grass. And in case you were wondering, no, it's not a riding mower. If I was a regular person reading that I would say you were lieing to me. I don't look at it that way. I am just doing what I need to do. I will say that usually after I am done I will be thinking that God didn't think cutting grass in the southeast on big doses of morphine was a good idea, lol. I usually lose 3-5 lbs. when I cut grass. But I love to cut grass!! Call me Patch Gump! I will post our song a little over 3 hours from now. Peace…
NOW I HAVE TO GO WATCH FORREST GUMP AGAIN! thanks patch


Run, Killer Mammy, Run!!!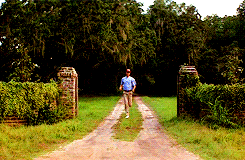 WHHYYY do they take away my likes? i was just looking at BOM and zero zip! like like like kap!
I love that movie. I see a lot of Forrest's personality in me. Well I had to take a break. Bought dropped a load in my pants!! The policeman who lives in our neighborhood came by while I was cutting grass. He said somebody had requested a welfare check be done on mom. I am thinking that will get him inside the house long enough to smell the blueberry I have been smoking. But it never happened. Whew! So it's time for what song is that, where you all get to name a song by the lyrics I give you. I wish all of you good luck!!!
"Hazing clouds rain on my head,
Empty thoughts fill my ears,
Find my shade by the moon light,
Why my thoughts aren't so clear…"
Godsmack - Voodoo. Good tune and VERY good band to see live. Dueling drums drum solo is a sight…
well for all of you …like like like



i hate being out
This song is one of my healing songs, I went through some bad times with what this song is about, it was hard to hear for awhile, but now it helps.
Trish-
I know you're not out of weed, what is it that you were saying by "I hate to be out" oh, he says when someone plugs me into a socket, likes!! I get it now. Peace…
WE HAVE A WINNER ON TODAY'S SONG!!
CygnusX1 KNEW THOSE LYRICS WERE FROM THE SONG "VOODOO" BY GODSMACK!! I decided to do a newer song for a change, as I am a senior citizen, lol. I will try to mix it up for all of you. If you are looking for the country version of this game you will be waiting a long time! I know there are always exceptions to the rule, but country music makes me depressed! This is not good when you work for the biggest country music station in our area of the state. Anywho, we will play again tomorrow yall. Have a great weekend everyone!!
Peace…
nope not out of weed! even after i gave most of it away i still have cookies and jars