You could also swap that driver for the 320 and go that route for a few extra $
I did copy , I have to look into detail it's going to be my first Diy light , so that list looks a lil overwhelming for me now
It's really just a comprehensive list of everything the full hlg kit would come with for $500
The actual putting it together is a breeze!
Thank you everyone for the expert advise and taking the time to respond , now I definitely be able to get a light soon since it's only half price
And that list it's for the rspec xl right ? Damn I didn't know , so I can get a even better light if I do it this way
Yes that's correct. And if you built 3 260xl you'd be paying 300$ a unit if you go this route
(2) PCb boards and heatsink 279$(2) + 30 shipping -$590 with shipping
Horticulture Lighting Group
Ultra High Efficiency LED Boards for DIY. QB288 has 288pcs Samsung LM301H LED
Price: USD 279.00
Driver $45 (3) 150
https://www.google.com/shopping/product/1?q=hlg+240h+c2100a&client=safari&hl=en-us&biw=414&bih=719&tbs=vw:l,ss:44&prmd=svin&prds=num:1,of:1,eto:7442045610259463833_0,prmr:1,pid:7442045610259463833,cs:1
Wagos $9(2) 18
Wago 221-412 LEVER-NUTS 2 Conductor Compact Connectors 10 PK https://www.amazon.com/dp/B06XH6WW4D/ref=cm_sw_r_cp_api_glt_fabc_C9H5XR84SKMBN91HNQ8Z?_encoding=UTF8&psc=1
Hangers w/ clips $7(3) 21
Bayyee Rope Hanger Hanging Basket Plant Holders for Indoor and Outdoor LED Grow Light Aquarium Lighting Tank Lamp, Stainless Steel (16'' Black 1Pair) https://www.amazon.com/dp/B01KLSSA8O/ref=cm_sw_r_cp_api_glt_fabc_VRMS274QGWG4T84ZXM5A?_encoding=UTF8&psc=1
Power $11(3) 33
Pinfox 6ft 16 Gauge 3 Prong Heavy Duty Replacement Power Supply Cord Cable 110V 115V 120V Pigtail for Universal AC Appliance, NEMA 5-15 Plug US SJT 16AWG (12A) https://www.amazon.com/dp/B06XRKXLVV/ref=cm_sw_r_cp_api_glt_fabc_S0SGDM0P4VWWBB2CS6A2
18g wire x2 (black & red) $16
RadioShack 18 AWG Solid Copper Hook-Up Wire - 25' Spool, Black https://www.amazon.com/dp/B088F5B9M3/ref=cm_sw_r_cp_api_glt_fabc_AA7VD9ZS6AQN24XHCDXA
Xl heatsink $60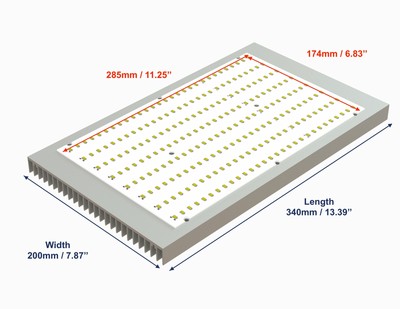 More Fins/Surface Area compared to Traditional Quantum Board Heatsinks. Affordable Heatsinks for DIY Growers. Heatsinks are not pre-drilled for PCB Boards. They can be easily drilled and boards can be mounted with self tapping screws.
$890 Total / 3 -300 unit w/ shipping
saving 210$ without adding shipping to the savings total
It's really like 296.66 but who's counting a few pennies?
I just need to get out of work so I can actually take a good look

, all this details
Would I really need the triple? It won't be op for 2x4
320W vs 250W 320 all day long. It has a dimmer
It is not uncommon for experienced growers to run 2 x 260 rspecs in a 3x3
Damn that's crazy how much light plants can take in , definitely gonna upgrade for the rspec 260 xl - so this is the list for what I need for that light correct ?
And as well I'm a lil confused with the price line , if I go with the diy rspec 260 xl is that 600 or 300 ?
It would include everything and you'd get a spare pcb board for same price as a single hlg 260w kit if you buy the single option at the same price.
Tho a free rspec pcb board is worth the hassle
If you do 3 it reduces cost overall 70$/ 260wkit and covers shipping from hlg
320 for shizzlee I like having ability to overpower so I know I'm not underpowered…
I run 2480 watts in 8x10 of greenspace in a 10x10 I'm running a lil over 30 watts per square foot which is rocking a space with full spec hlg lights go big or go back to the store eventually
Ok so I'm getting ready to get this for my gorila grow tent 2x4x7
Any input before I order ?
Other than to say I WANT ONE! Excellent choice. A lot of people go with the 260 XL. I like the 320 XL because of the additional horses. I have a 3x3 gorilla tent and am very happy with it I hope you will be with yours.
I had to remove link, they aren't approved vendor. I would look around online for coupon codes.
Hey no problem , but thank you , I heard dude gives you a 10% off
Awesome thank you , I'm very happy with the advice, I feel that this decision will put me closer To my goal of growing good quality flower