Definitely have a lot of work ahead of me but Earthdust makes life simpler!
The nieces @JaneQP .

Those were great seeds. Herbies? A cream and cheese bean heading your way…

You are too kind! The crack was from Beaver seeds and the other I believe was Herbie's. I would have to find my order.
Jesus little lady you are in for a busy summer haha them kiddos better be helping out haha
If they want any they will help!
@Storm i was so happy to come back to heat and massage! Thank you again for the gift!
Hey JaneQP i see @Graysin has blessed yoù too. Let me know how Yeti turns out. I dropped purple haze and hawawian beans. Going to grow maybe one outside in the ground
Shenanigans




Car wreck on highway in backgroùnd one tire bounced from wreck into tree.
@Beck @spudeater65 I am leaning towards the accident on I-70 and the tire bounced away.
About ten years ago I saw a SUV lose its spare tire - remember when they were fastened underneath? Anyway, I was driving my mid-life crisis boy racer car, an Acura RSX. That spare tire let loose and came at me at 50 mph. It bounced, turned sideways, I ducked, it took out the front end and radiator - luckily not my head. I watched it continue its rampage behind me as everyone was swerving and accidents happened.
That car has been passed down to my middle and now my youngest. We routinely get cash offers. It is a 2005 and I think they discontinued the model in 2007?
I loved that car and after 17 years still under 200K and PM done religiously.
PS you have to love the old Acura engines.
Like the Toyotas. Oldest has 1975ish off road vehicle but selling it since a baby is on the way.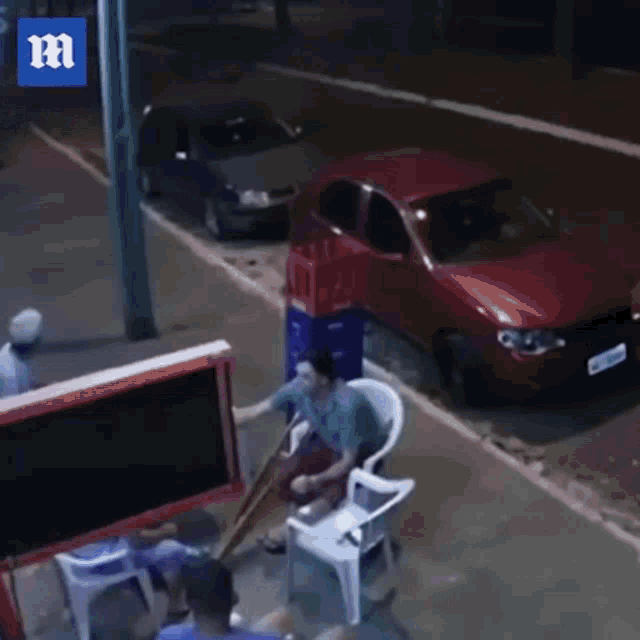 Dude - was guy already on crutches? What kind of messed up karma has that cat got? LOL!
i know it's right but I have a had time wrapping my head around the numbers sometimes.
I remember when Y2K was gonna kill us all!
Seems like childs play now and days!
Outta likes

Glad you were okay. That must've been scary as hell
Good morning friends.
Long story but listen,
When MJ became legal my middle's best friend became a care grower for her mother.
Mom was only give a 6 month life expectancy. It has been 7 years.
She had to go the hospital and her caregivers stole her pain medications, seeds, product, jewelry and even her chihuahua! Gizmo the dog was returned and they have installed security cameras, new locks, and safes.
Thanks to the amazing growers here I will be giving her three plants and teaching her how to clone today.
@Graysin @MeEasy @Newt @Growingforothers @Caligurl @Storm @emgoldslo
Just a shout out to a few but there are so many many more over the past two years that have helped me to get to a place where I can help another.
That's a relief at least.

You already know, but let me know if you need a mailer bag to forward to hold her over until a harvest can happen. And of course any "Graysin Farm" seeds - lord knows I've still got a few.

Good on you! I grow for a couple friends to use medically that live in a non MJ state.
You are ahead of me as I have yet to clone. Keep starting from seed but want to start cloning this fall.
Her daughter is coming over at noon to clone. I'll ask. She seemed so humbled to even ask for help.