If you are at week 10 from seed you likely have a few more weeks to go.

As it shows here WW auto's take about 8 weeks after flowering begins.
Look back to when you first saw pistils, on all your tops, and start counting 8 weeks from then.
This will help you decide when is best time for harvest.
@Dr.ofSmokology @Docnraq hope y'all are well ,check out the first timer basically all from miracle gro !
and I fortified the soil with some bonemeal and such
Does anyone have any idea what's going on with this plant is it a hermaphrodite don't wanna mess with my ladies
that's weird looking. id love to give advice here but im too new and have no clue. first one looks great tho.
Those clawed leaves are a bad sign. She does not look well that last pic. First one looks pretty healthy. Looking back I see you asked about her a few days back. She doesn't look so good. You know that though.
She could be genetically weak, but it looks like a ph issue. Have you got any runoff figures or soil slurry ph value of the soil? I don't think it's a deficiency, it think it's excess. Excess of one kinda nute can lead to lock out of others. This is likely gonna be the miracle grow but I'm not versed enough to tell you. @Hellraiser likely could tell you what's up with that lady. Maybe @budz too.
Can you show me the reason you think it might be a hermie?
I only ask if it's a hermie due to The odd bud structure looked like a nanner or the the thing that comes out of males . But it's probably just an odd bud structure it looking like that.
I was thinking it could of been weak genetics too ,she's looked like that from the day she sprout .
like an egg that gets fertilized but shouldn't of made it but here she is lol.
Also the lockout is a good point there's a possibility she was planted in too hot of soil since my mixing of soils was dependent on what I could find.
I had another one of my critical purples in bad dirt only grow 5-6 inches tall and flower way before everything else. Bad luck on the genes is what I think but I've been happy with most of them
If you're still thinking about which nutrients to go with I personally would suggest Mantis Buffered Nutrients. It's a one part nutrient same feed rate from seed to harvest. It's buffered too so it keeps your PH at around 5.7-6.2… Easiest nutrient system i have ever used.
Got a thread or anything of the results?

thank you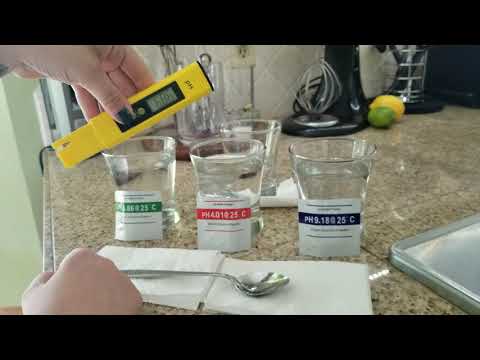 This will help with that.
Some ph pens can work that way. They generally cost about $120.00 or more, look like this
Seen it advertised on YouTube you can ph your soil by sticking the meter in there when it's wet. It's notorious for not being accurate in the least also. The place to get a sample from is two inches bellow the loose top soil in the "root zone" to get that figure you gotta dig a lil. Most will avoid this if possible so keeping track of what goes in and comes out allows you to identify issues as they begin vs after they start showing signs on the leaves. To do this without damaging the plant too much I used a half inch diameter metal tube (the metal. TP holder tube to be exact), disinfected of course. Some where in the middle of the space between the stem and the side of the container, Use it to get a core sample so to speak (when dry, before any watering or feeding.) Measure about a tablespoon of that dirt and put it in a small glass or jar. Then take 1 tablespoon of DISTILLED water pour it in and stir the crap outta it for 1 min. Next let it sit for 15 mins. Ph the liquid inside the cup and this will tell you exactly your soil ph is. You can also use your tds meter to tell the ppm of salts (fertilizer) you have in the soil at this time. This is a 1:1 soil slurry test.
Ilgm has a germination guarantee, you will want your order number and such on hand then contact ILGM either by "contact me" on seed store site or tag @ ILGM.support in this thread and you will likely hear from them. Great customer service with ILGM. I am 10 for 10 with ILGM seeds and 5 for 5 with seedsman so far. Hope your germ rate gets better, if you want I'll share how I do it but im sure you read a few threads about it and I likely did it the same way.
Yeah no worries about hermies that I can see. stay vigilant though, it only takes one sack to pollinate the whole room. And even future grows, if not cleaned thoroughly. Pollen and spores are sticky, small, and ambiguous once released into the air.
Wow got long on that one…sorry.
You mentioned amending with bone meal and it made me think of this website.
Looks like it's worth looking into

nice
Bro nice chart! . That's a little feed bible there.
Does not really look like a hermie but definitely have some strange growth going on with that one, probably genetic but the clawing leaves would indicate an excess of nutes.
Howdy

, this is my closest girl she seems to be nearing the end of her life as I see with others plants you know the yellowing leaves
Can y'all discern with your eye when the trichomes are ready or need a magnifying glass
Also I trimmed a nug off 3 days ago and it smells mostly like grass and lemon ? Will the this chlorophyll smell go away during cure? Just curious
This is 3 days under a fan and first 24 hour in the jar . Less grassy and more lemony today the cure is the key? Thanks
You'll need something, magnifying glass, jewelers loupe, usb microscope, phone camera with macro lens or setting to get a good look at the trichs.
But all the white pistils is an indication that it still too early, 2-3 weeks to go til prime chop time.
Yes it is, the more time curing (to a point), the better the taste and smell.
I had a small web structure pop up in the main cola I sanitized tent with alcohol spray solution but I cut the plant to avoid growth inside it and gave a bud wash . Hown long do y'all like to dry under a fan? I was thinking probably 3-4 days max then jar?

They were black gnats , I've got to sweep up properly and resanitize and get some diatomaceous earth they were like small white bugs crawling in the the dirt. Didn't die off with permethrin spray a week ago . Small black flying bugs


in my house!